To capture your stream accurately, Eklipse AI requires an uncluttered gaming interface. Therefore, it is important to follow best practices to ensure accurate highlights. In this section, we will provide guidelines for using Eklipse AI to clip your League of Legends streams.
Important: Correct Game Category #
When setting up your live stream, it's important to make sure you choose the correct game category. This will help Eklipse to identify the game you stream. To ensure that you select the right category, follow the instructions for your respective live stream platform.
Twitch #
Open 'Creator Dashboard'
Choose 'Stream Manager' on left-sidebar
Click the pencil icon 'Edit Stream Info' on right 'Quick Actions' bar
Look for 'Category' section then type the game title you want to stream

YouTube #
Open 'YouTube Studio'
Click 'Create' > 'Go Live' on the top-right
Choose 'Stream' on left-side menu > Click 'Edit'
Look for 'Category' section > change it to 'Gaming'
Type the game title you want to stream on 'Game Title' box

Facebook Gaming #
Open your Facebook Gaming page
Look for 'Create' section > click 'Live'
Hit 'Select' button on the 'Go Live' section
Make sure you choose 'Stream setup' menu on the left-sidebar
Look for 'gaming' section on the right-side
Type the game title that you want to stream on the 'Game' box

Important: Set Your Stream Public #

Always set your stream public! Eklipse AI needs access to your stream so it can pull your stream data to automatically create highlights. All you need to do is turn on the option above, here's the instruction to access it:
Click your profile icon (on the top right) > Creator Dashboard.
Look at the left-sidebar menu, choose Settings > Stream
Scroll down a bit, you'll find the option illustrated above, turn it on.
Recommended Stream Overlays #
Allow Eklipse AI to detect moments in your streams by avoiding covering any important areas on your game screen, whether using an overlay or a facecam. In the picture below, you can see a blue area that we refer to as the "safe" area for placing an overlay. Alternatively, you can place your overlay in another area on your screen that does not overlap with gameplay.
DO: #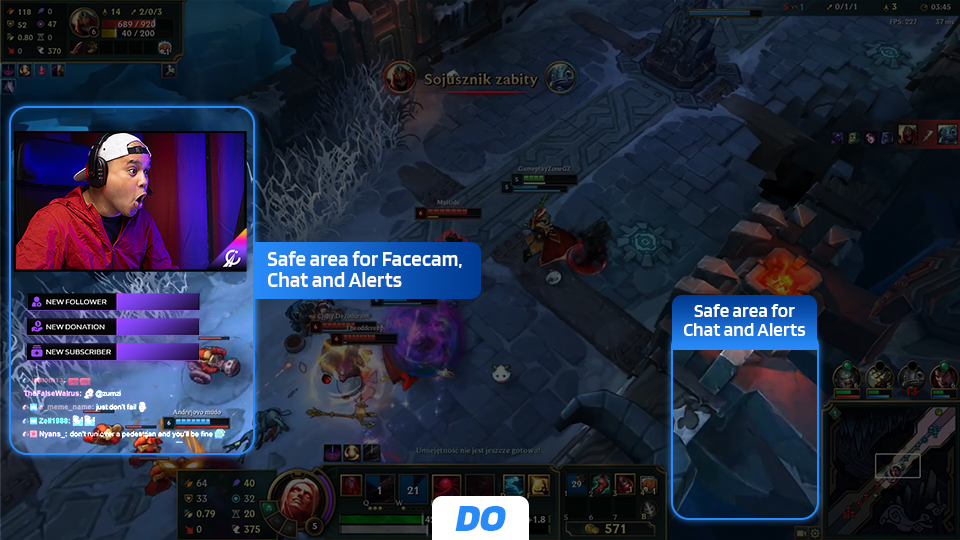 Do put your overlay and facecam on the blue "safe area". The picture above is the ideal overlay and facecam positioning that guarantees precise capture of significant moments by Eklipse AI.
DON'T: #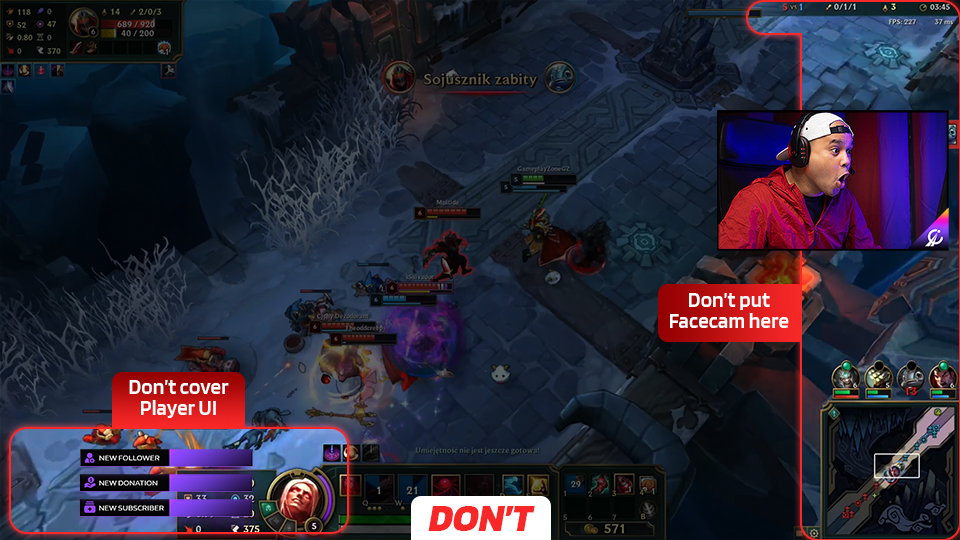 Don't cover the important game HUD as it can interrupt Eklipse's automatic capturing process. As you can see in the image example above, the overlay position is not ideal since it is placed outside of the blue "safe area" and covers the important game UI.
Another thing to note is to not cover your minimap for optimal Eklipse AI highlight capturing. We understand that some streamers may need to do so to prevent stream snipers, but that part of the game UI is necessary for accurate Eklipse auto-highlight capturing.
Languages and Game Settings #
Since we currently only support the English version of League of Legends, we recommend you to use English as your gaming language to have the best experience with Eklipse AI. Besides that, the background color of kill messages should be set to the default of the publisher.
Other Tips to Notes #
In addition to using Eklipse AI to automatically clip your Twitch stream, you can also manually clip your stream using Eklipse Hit Moment! This latest feature enables you to create clips by simply typing !eklipse as a chat command on Twitch. If you want to learn more about this feature, please visit this page:
---
To learn more about capturing more accurate highlights for other games supported by Eklipse AI, read: